This page details military structure of
Renegade Knights
forces including
Detachments
.
---
Detachments
Forsworn Knight Detachment
When choosing an army to play a game of Warhammer 40,000, there are two main ways of organising your collection. These are the
Unbound method
, which means taking whichever units you like, and the
Battle-forged method
, which is more rigid but has extra benefits. Both are fully described in Warhammer 40,000: The Rules.
If you are using the Unbound method, simply use the
datasheet
included in this section. If you are using the Battle-forged method, you will instead need to organise your Renegade Knight models into
Detachments
, such as the Forsworn Knight Detachment shown below.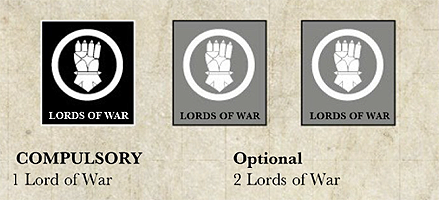 RESTRICTIONS
This
Detachment
cannot be your
Primary Detachment
. All units must have the Renegade Knight Faction.
COMMAND BENEFITSFallen Household:
If this
Detachment
contains 3 Renegade Knights, it forms a Fallen Household and all of its models have the
Preferred Enemy
(
Imperial Knights
) special rule. However, such is the enmity between their former comrades that all Imperial Knights will have the
Preferred Enemy
(Fallen Household) special rule as well.
---